St Leonard's aims to provide the resources and facilities to enable children to fully experience all aspects of the curriculum.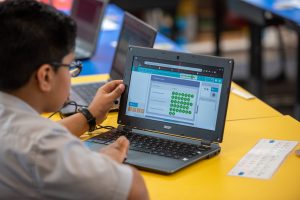 This includes:
Large classrooms, all air-conditioned. A new 2 storey wing housing 10 contemporary classrooms
A new contemporary Library. It is well resourced, fully automated and air-conditioned.
Modern and efficient administration area and sick bay
Dynamic Wellbeing and Learning Centre
Electronic Interactive Whiteboards installed in all learning areas
Multimedia pods connected to all classrooms with access to a range of devices
Outdoor play-based learning garden space, accessible from classrooms
New playground equipment
Community Centre for Assembly, Drama, Music and Dance activities
Outdoor basketball court
Indoor basketball court / gymnasium.
Secure fencing and well equipped playground including an oval provide for a variety of activities
large oval area incorporating 'hands on' play area
Shaded areas covered by sails.
Equipment and resources for programs in all curriculum areas.
Multi-Purpose Room.
All toilets accessible from inside the main wing of the school.
A Before and After School Care program.